Client
RetireAustralia
Industry
Hospitals and Health Care
Organisation Size
500+ employees
Country
Australia
Technologies
SharePoint Online
RetireAustralia is a leading owner, operator, and developer of retirement villages with a focus on providing quality retirement lifestyles. RetireAustralia boasts a staggering 28 retirement villages with over 4000 residents spanning across 3 of the Australian states. To ensure effective collaboration between their 500 employees, RetireAustralia has chosen SharePoint Online as their online communication platform of choice.

When the COVID-19 pandemic hit, there were lots of mandated requirements that were critical to operating safely. RetireAustralia recognized the critical significance associated with their staff understanding the latest government advice and restrictions as it applies to retirement villages who residents are mostly in a high-risk category and extremely vulnerable to pandemics and viruses.
With most employees working from home most of the time, RetireAustralia immediately began investigating options for centralizing and distilling COVID-19 information for employees on a platform that they could access anytime, anywhere. A retirement village is arguably one of the highest risk environments for a outbreak and Retire Australia needed to take every action possible to mitigate this risk and run an efficient system for keeping on top of all mandated requirements.
All new information related to restrictions, developments, or updates needed to be in a central location for quick and easy consumption. The proposed hub needed to be easily moderated to limit the effort required for maintenance, as well as easily accessible to ensure the majority of RetireAustralia was updated daily.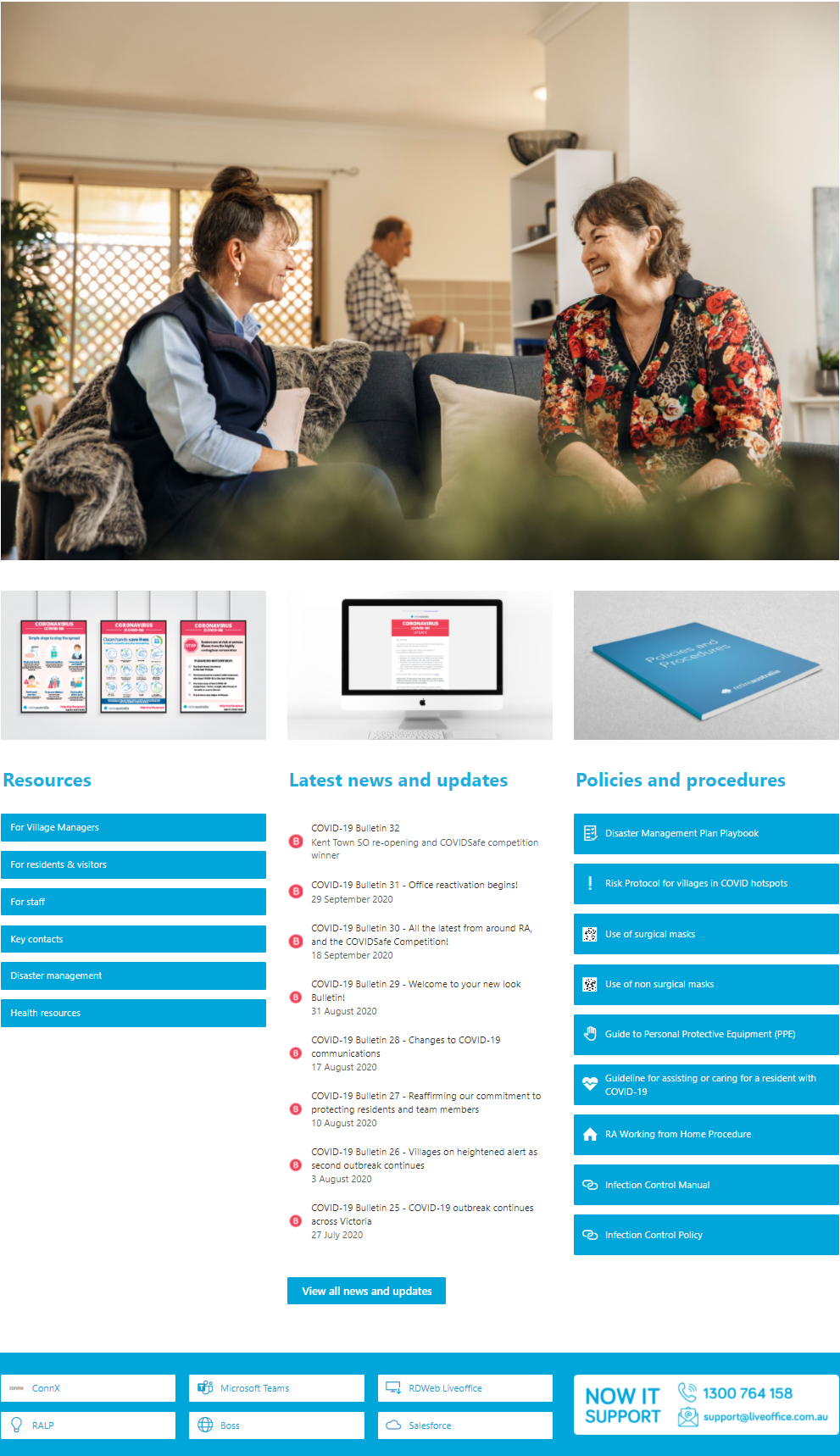 Given that RetireAustralia already had access to Office 365 licensing, we opted for a cost-effective solution by using the SharePoint Online platform. The new SharePoint site was a hub that was developed with simplicity in mind: the goal was to simplify the way information was accessed, removing any complexities and potential for confusion or error.
Quick to Deploy
The intuitive development tools included in the SharePoint Online platform allowed us to wireframe, build, and deploy the solution within days. This provided RetireAustralia a winning position in the race against the COVID-19 clock at the time of the pandemic, but also allowed them to create a critical information hub that will serve long after the pandemic has subsided.
Ease of Use
We were able to hide all the technical aspects of the Info Hub from plain view which allowed an easy hand-over to the RetireAustralia Communications Team. The navigation of the site, as well as the ability to add new resources and updates requires just a few clicks even for the most non-technical of users.
CG Tech is honoured to have been involved in the undertaking of enhancing Retire Australia's digital workplace and steering it in a direction that helped protect the safety of the elderly and the careworkers. It is not every day that our work in the Microsoft cloud space has such a positive impact on so many people.
The speed with which the RetireAustralia Info Hub was built and deployed was possible in part because of the rich feature-set and intuitive nature of SharePoint Online, but also due to our team of experts who are able to assess a problem and come up with a solution that really works for the organisation in question, As a result, we were able to create, deploy, and hand-over this information hub within mere days of the requirement being brought to us.
The solution being implemented in SharePoint meant that the ongoing moderation of the news updates was easy for non-technical staff.
The Info Hub was built upon SharePoint Online to allow for non-technical staff the ability to publish visually effective content to an audience in the hundreds with just a few clicks.
By combining the SharePoint Online feature of automated content management alongside the simple ideal of presenting an intranet to a business as holding critical information we were able to meet all the goals set out in this challenge.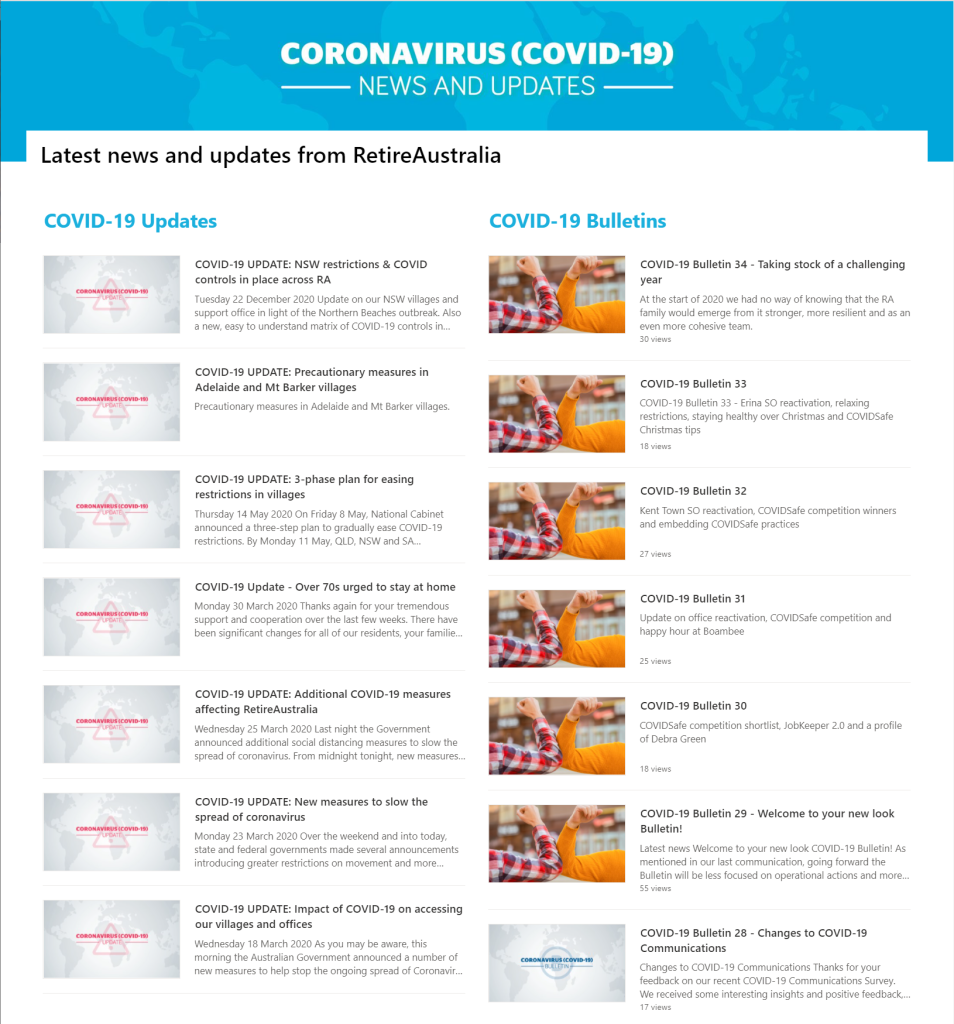 WHAT DID RETIREAUSTRALIA THINK?
The communication with Village staff throughout COVID-19 were all possible because we kept our team connected using SharePoint Online and Microsoft 365.
Narongsak Warren, National Manager – Business Technology
Timely and effective communication is critical during the pandemic. With our Covid-19 Hub we can keep our employees informed in real time wherever they are – working from home, an office, a village or on the go.
Vanessa Robb, Communications Lead